abunDANCE - Midsummer-biodanza på Scenehuset i Oslo with Unni Heim
Fra 24. juni 2023
til 25. juni 2023
Adresse: Scenehuset, Bogstadveien 49, 0366 OSLO
Abundance - abunDANCE
~ living our universal creative and loving power ~
Scenehuset, Bogstadveien 49, Oslo
Saturday 24. June from 11-18 &
Sunday 25. June from 11-17:30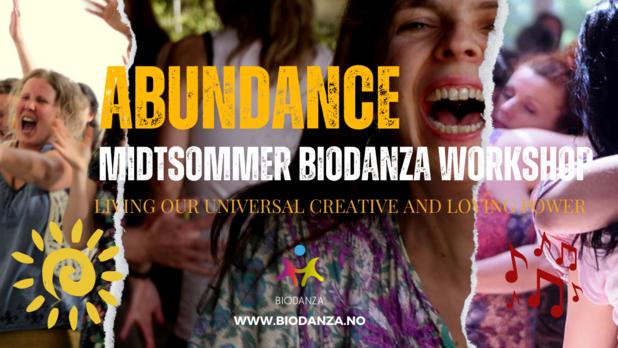 Biodanza invites us to embrace life; to discover our life potential and set if free.

Everything lives inside of us, and is waiting to be stimulated and born.
We are the sun and the moon.
We are the wind and the rain.
We have inside of us the same powers that drives the universe.
This workshop is an invitation to connect and awaken our potential, our dreams and our instincts.
It is an invitation to discover richness in simplicity, and to surrender to the forces that drives us.
It is an invitation to embrace our own seed of life – to honor our life and our essential desires.
It is an invitation to unify both our wilderness, our subtleness, our roots and our wings.
Connection is essential on this journey:
Connection to deeply to ourselves, connection to others and connection to the totality.
This connection is our integration with eros, cosmic creativity and love.
Welcome to awaken abundance – the dance of life.
cost:
1100 NOK - early birds when registering until May 1
1200 NOK when registering before June 1
1400 NOK – after June 1
Register by paying a non refundable deposit of 300 NOK.
The workshop will be led by Unni Heim
Unni is a warm and sensitive facilitator, teacher, trainer and therapist, and started with biodanza in 2004.
She grew up in the North of Norway under the Aurora Borealis and the rich and powerful nature, but has lived most of her adult life in Oslo or around the world. Since the year 2000, she has been on a deeply transformative journey, both personally and professionally.

She works full time with biodanza, meditation and human development, and has been invited to teach in several countries in Eastern-, Southern-, Central- and Northern Europe as well as South Africa and Bali.
Bringing people together to support our deeper life journey is her greatest passion.
Unni is also the founder of Biodanza in Norway, and she is the founder and co-director of Norsk Biodanzaskole (the school training new biodanza teachers).
Påmelding